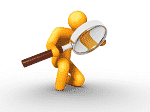 More and more Web designers, IT (LAN, WAN, computer networking, computer repair) companies, and SEO (search engine optimization and search engine marketing) firms are offering Web hosting services to supplement their income.
Some of this companies do so from a referral fee basis, some from a business exchange business (you scratch my back, and I'll scratch your back), and some as a reseller (this part can be interesting because it is possible to be a reseller of a reseller of a reseller).
Extremely few of them have their own (direct) hosting company.
Barry Moltz, who works with SCORE and small businesses to get their businesses unstuck, and the author of several books including "Small Town Rules," shared one of the rules all business owners should follow is make no assumptions; test everything.
I would like to encourage you to apply that when your IT, SEO, Web designer / developer tells you to use them for hosting.
Here are some questions you should ask them prior to making your decision:
Is this your hosting company or are you a reseller?
If this is your hosting company, does that mean you own the data center?
(If they answer yes to owning the data center), If I look up ownership of this data center, are you saying you and your firm will be listed as being the principal owner of the data center?
(If they switch gears stating they are an investor rather than an owner), then if I look up who has stock with the data center company, they will find stock certificates under your name or that of your firm?
(If they switch gears and state they are a partner with the data center), then if I call them and ask if you and your firm are a certified partner, they will answer yes?
(If they answered they are a reseller), what level of reseller are they (common answers are alpha, master, reseller, don't know; alpha has a direct relationship with the provider, master has a direct relationship with the alpha, and reseller has a direct relationship with the master — each level below the alpha typically increases the time to resolve questions and problems)?
(If they are a reseller) who owns the hosting company (note: If the hosting company is owned by the Endurance International Group (EIG), then expect throttling and limiting of the resources to your account as a matter of course)?; is the hosting company is part of a larger holding company (EIG)?
What is the service level agreement (SLA) for hosting? If my web site is down for 30 minutes due to a fault with the hosting provider, what then?
How does the hosting provider deal with overselling?
Do I contact you or the hosting provider if there are problems with my site? Whom do I contact if I have questions about my site and my hosting?
If I put in a phone call for help with hosting, what's the average time before someone starts to help me?
If I put in a support ticket for help with hosting, what's the average time before someone starts to help me?
Where is the hosting provider located?
How long has the hosting provider been in business?
How long have you had this relationship with this hosting provider? Did you use other hosting providers? Why did you switch?
Has the hosting provider had any recent security breeches? If yes, when and where does it stand now?
What information is available on the security practices the data center has in place?
If I'm going to do ecommerce, is the data center SSAE 16 Certified?
Does the hosting provider regularly help customers become PCI Compliant? Where can I find out more about the process?
Do you have any limits on CPU, RAM, # of processes, inodes, or other resources outside of disk space and bandwidth that my account might use in the course of a given moment of any given day? If you have limits, how are they controlled? Do I get notified when I'm approaching a limit? When I'm at the limit? What happens if I have an application on my site that goes over a limit? What do my visitors see or don't see?
May I have the direct contact information for the hosting provider? I would like to call them to flesh out some of your answers (then be sure to do so).
If I go directly with this hosting provider or another of my choosing, how will that impact our relationship?
Web hosting is day in and day out.
If you are going to do any form of ecommerce whether collecting donations to selling products and services, you should want a hosting provider who will be there for you (the more direct the relationship, typically the greater level of service you will receive).
Resellers are not necessarily a bad deal. Some designers, IT, SEO, etc. firms will pick extremely high quality hosting provider with whom to resell.
Unfortunately, a large number pick the hosting providers with the cheapest prices hoping to increase their own margins (at the cost of service levels for the hosting customers). Sometimes their prices are so low, they can offer what appears to be no brainer prices to their customers; yet, there's are reasons why the price might be so low, and those reasons typically don't favor the best interests of their customers.
If you have experiences with designers, developers, IT, SEO, etc. firms and using their hosting or talking to them about their hosting that you would like to share, please use the comment form below.